107 North Main St.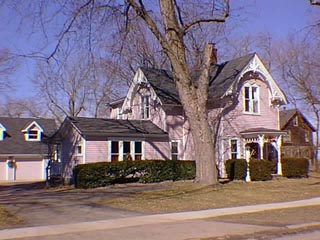 The original section of this Gothic Revival style house was built for Robert Reid in 1884.
This Gothic Revival style house stands on what was part of the 1847 property of David S. Lewis. After David's death, his wife Mary became Mrs. Eleazer Thurston. The Thurston parcel may be seen on the 1872 Map of the Village. The piece on which this houses actually is set became Robert Reid's in 1884. (Robert Reid owned a farm which at the time was to the south of the Village limits, west of M - 15 / Main Street.) By 1885 the piece was assessed at $1000. A Pontiac Bill Poster, September 24, 1884, Vol.17, No.13, refers to Mr. Reid's new house as almost complete. An item in the Post newspaper issue, 6/01/1900, " Robert Reed (was) improving his house with a new porch". In the 1950s the house was remodeled. The wrap-around porch which extended across the front of the facade to the north with a door into the house beyond the bay was removed. The wing to the south of the two story section is also an addition, as is the two section on the rear of the original structure. Recently a porch on the south side was added behind the wing. An old one car garage directly behind the house was demolished & a new garage was constructed in the 1990s. The front door was changed in 1970. Gothic Revival details of the original house may still be seen in the pierced bargeboards of the steeply pitched second story eaves.
Official Property Description:
The northeast corner of the Southwest 1/4 of Section 20 in Independence Township, not a part of Nelson W. Clark's Original Plat of the Village.
Lot 37 of the Supervisor's Replat of the Northwestern Addition & Part of the Original Plat.
Significant Property History:
1844 Gamaliel Truesdell, the northeast 1/4 of the Southwest 1/4, assessed value $215.
1846 Joseph "Chatman", one acre on the northwest corner of the northeast 1/4 of the Southwest 1/4 of Section 20, assessed value $10.
1848 Joseph "Chapman", the northeast corner of the Southwest 1/4 of Section 20, assessed value $100.
1847 David Lewis.
1849 D. S. Lewis, the northeast corner of the Southwest 1/4, assessed value $103.
1860 Eleazer Thurston.
1872 Map of the Village has no building footprint on this site, owner, Mrs. Thurston.
1884 Robert Reid.
1885 Robert Reid, 20' off the south side of Lot 3 Block, his business. 
& north by Thurston, south by Mary Powelson, assessed value $1000.
1896 Map of the Village, owner Robert Reid.
1927 Mrs. Robert Reid.
1935 Bird Cooley.
1940 Bird Cooley.
1954 C. D. Carr