18 South Holcomb St.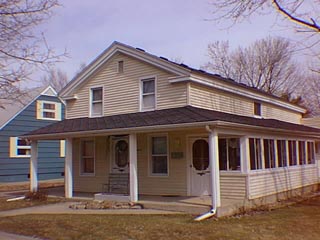 This house was built about 1855 in the Greek Revival style, owner Jedediah Yeager/Yager.
This circa 1855 Greek Revival building was built for/by Jedediah Yeager/Yager one of Clarkston's first blacksmiths. This was probably his residence. Yeager had a shop in 1860 with a partner named Van Winkle on the east side of N. Main St. south of the stream to Park Lake. Later his shop was on the northeast corner of the Clarkston mills property on W. Washington St. Hints of the original Greek Revival structure may still be seen under the asbestos shingle siding & the Victorian era porch which was added across the west & south facades. The original building had/has the broad low pitched roof with broken pediment typical of the Midwestern adaptation of the style. The symmetrical placement of the openings on the street facade is also typical. The rear of the structure has received additions over the years. Artificial siding covers the original wood clapboard.
Official Property Description:
Lot 6 Block 15 of N.W. Clark's Original Plat of the Village in the Southwest 1/4 of Section 20 in Independence Township.
Lot 3 Block 1 of Myron G. Cobb's Original Plat of the Village.
Lot 85 of the Assessor's Plat.
Significant Property History:
Note: All the properties currently located in the Historic District were originally part of a tract registered by Butler Holcomb with the federal government on October 22, 1831. Thus, abstracts for these properties, when they exist, show the original transfer to be from the United States to Butler Holcomb and may also include references to then President Andrew Jackson.
1842 Nelson W. Clark, Original Plat of the Village.
1843 N. W. & Phidelia Clark to Polly Clark, Blocks 13, 14, 15, & 16; & Lots 3, 4, 5 & 6 Block 18.
1844 Nelson W.Clark, Block 15, assessed value $15.
1848 Polly Clark, Blocks 13, 14, 15, & 16, assessed value $76.
1849 Polly Clark to Myron Cobb.
1854 Cobb's Plat of the Southwest Addition.
1857 Jedediah Yeager/Yager.
1858 As above, Lot 3 Block 1, assessed value $300.
1861 as above, assessed value $400.
1869 as above, assessed value $200.
1872 Map of the Village has a building footprint on this site, owner W. H. 
Tax records: William Holcomb, Lots 3 & 4 Block 1 of the 
Southwest Addition, assessed value $250.
1878 William Holcomb, assessed value $600.
1883 Elmer Vliet. Lots 3 & 4 , assessed value $600.
1884 John Hempstead, as above.
1993 "S. C."/C. S. Dewey, Lots 3 & 4, assessed value $500.
1900 Mrs. C. S. Dewey.
1914 Mrs. C. S. Dewey, Lots 3 & 4, assessed value $700 (excempt $1000.)
1917 Charlotte S. Dewey, estate, Lot 4, assessed value $900. 
Lulu Hemingway, Lot 3, assessed value $800.
1920 Lulu Hemingway, Lot 3, assessed value $1500.
1923 A. Baker, estate, Lot 3, assessed value $1500.
1924 Amos Baker, estate, Lot 3, assessed value $1600.
1925 as above.
1927 Della Perkins.
1930 Della Perkins.
1935 Adella Perkins, assessed value $850.
1940 Mrs. Denton Shaw, assessed value $600