27 Miller Rd.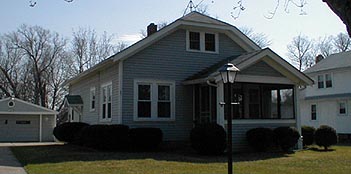 This cottage bungalow style house was built about 1927 as a part of the King -Wompole Plat. Four other houses on the south side of Miller Road were built about the same time. In 1982 the original wood clapboard was covered with aluminum siding.
Official Property Description:
This Property was not a Part of Nelson W. ClarkÕs Original Plat of the Village in the Northwest 1/4 of Section 20 in Independence Township.
Lot 4 of the King-Wompole Plat.
Significant Property History:
1926 King Wompole, assessed value $600.
1927 King & Wompole Lot 4, assessed value $1500.
1937 Clarence Ainsley.
1938 Ralph Marshal.
1941 David Stewart.