42 West Washington St.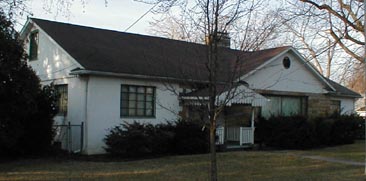 This house was built in 1953 as the home of Allen E. Hawke, owner of Hawk Tool & Engineering Co., located in the Ford factory building at 20 W. Washington. Hawke bought the Clarkston Mills/Ford factory property in 1953 after Village residents voted not to buy the property from Ford.
Official Property Description:
Originally a part of the Clarkson Mills Property in the Southwest 1/4 of Section 20 of Independence Township.
Lot 1 Block 15 on Nelson W. Clark's Original Plat of the Village.
Lot 010 of the Assessor's Plat.
Significant Property History:
1844 Jeremiah and Nelson W. Clark, the Mill Lot, assessed value $2000.
1847 as above.
1848 Nelson W. Clark, the Mill "Lott" on the Southwest 1/4, assessed value $2000.
1872 Map of the Village shows this Lot as a part of the Clarkston Mills property, owners Hirst and Stiff.
1896 Map of the Village shows this lot as a part of the Clarkston Mills property, owner, John West.
1949 Allen E. Hawke