43 West Washington St.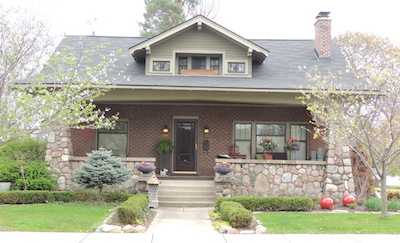 This large bungalow style house was built in 1921/1922 for James Beucler on a portion of the property owned by early Clarkston settler Thomas Broomfield. Broomfield's house was to the west at 49 W. Washington. A circa 1890 photo shows a barn on the property on the edge of the Mill Pond (Heritage, page 7). When this bungalow house was owned by Durand Ogden a Clarkston News article of 8/21/1942 commented on the unusual sight of an apple tree in the yard which had blossoms and apples at the same time. Architecturally this bungalow style house has the wide eaves supported by brackets typical of the style. The character of the house is enhanced by the native stone foundation and chimney. The only exterior change to the house since its constuction was the lengthening of the attached garage in 1935.
Official Property Description:
Lot 3 of the Western Addition to Nelson W. Clark's Original Plat of the Village in the Southwest 1/4 of Section 20 in Independence Township.
Lot 14 of the Supervisor's Replat.
Significant Property History:
1860 T. Broomfield, Lot 3 & 4, assessed value $230.
1861 Thomas Broomfield, Lots 3 & 4 in the Northwest Addition, assessed value $400.
1863 Thomas Broomfield, Lots 1,2, & 3 in the Northwest Addition, assessed value $450.
1872 Map of the Village has no building footprint, owner Thomas Broomfield.
Mrs. Philanda Broomfield, Lots 1, 2 & 3 in the Northwest Addition, assessed value $900.
1904 Thomas Broomfield, Lots 1, 2, & 3 , assessed value $1000.
1921/1922 The house was built for James Beucler.
1940 Beulcer, Lot 14.
1941 Durand Ogden.
Ronald and Virgina Walter