63 West Washington St.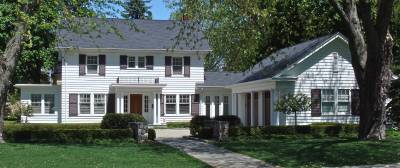 This Colonial Revival style house was constructed about 1920 for Mr. & Mrs. Louis F. Walter.
This house is the reverse plan of the house at 55 North Main which was built for Mr. & Mrs. George King. The Walters and the Kings were friends. This house on West Washington has changed very little since it was constructed (see the Henry Ford Museum photo below circa 1940), except for the new addition and garage which were added as part of an extensive renovation in 2008. Note that the wood clapboard siding is butted at the corners. Historically this site was a part of the property of Thomas Broomfield then his heirs until after the turn of the 20th century. The Broomfield home was the original section of the house which still stands at 49 W. Washington. The 2008 renovation replaced a circa 1990 garage which was also attached to the southeast corner of the structure. See picture below.
Official Property Description:
Part of Lot 1 of the Northwestern Addition in the Southwest 1/4 of Section 20 in Independence Township, not a part of Nelson W. Clark's Original Plat of the Village.
Lot 11 of the Supervisor's Replat of the Northwestern Addition and Part of the Original Plat.
Significant Property History:
See tax information for 55 W. Washington before 1872.
1872 Map of the Village has no building footprint on this site, owner Thomas Broomfield.
Mrs. Philanda Broomfield, Lots 1, 2 & 3 in the Northwest Addition, assessed value $900.
1904 Mrs. Philanda Broomfield.
1914 Louis F. Walter, Lot 1 less the east 5' thereof, assessed value $450.
1916 Louis F. Walter, as above, assessed value $500.
1918 as above.
1919 as above.
1920 Louis F. Walter, Lot 1 less the east 60' thereof, assessed value $1000.