37 North Holcomb St.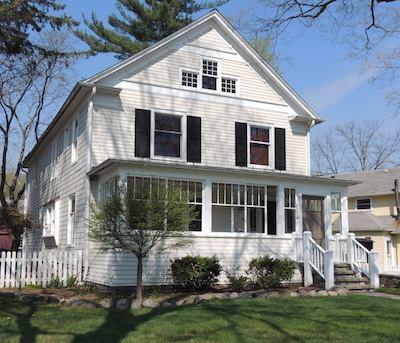 This large two story home was apparently built circa 1920. (Previous research gave a 1910 construction date.) In the 1950s the house served as a two family residence. It was converted to a single family dwelling in the 1970s.
Official Property Description:
Part of Lot 7 in the Northwest Addition to Nelson W. Clark's Original Plat of the Village in the Southwest 1/4 of Section 20 in Independence Township.
Part of Lot 6 of the Supervisor's Replat of the Northwest Addition and part of the Original Plat.
Significant Property History:
Note: All the properties currently located in the Historic District were originally part of a tract registered by Butler Holcomb with the federal government on October 22, 1831. Thus, abstracts for these properties, when they exist, show the original transfer to be from the United States to Butler Holcomb and may also include references to then President Andrew Jackson.
1860 R. Broomfield, Lots 5, 6, & 7 "occupied together for a dwelling and Company", assessed value $250.
1865 "W."S. Ackerson.
1869 "W."S. Ackerson, assessed value $300.
1872 Map of the Village shows the footprint of 27 N. Holcomb, owner, S. Ackerson.
1875 Fred King, assessed value $350.
1880 Leman Allen, Lot 7, assessed value $1500.
1920 C. Reese, assessed value $6000.
1924 C. Reese, Lots 7 & 16' of Lot 8, assessed value $6700.
1928 C. Reese, Lot 7 & 17' of Lot 8, assessed value $6500.
1931 Christina Reese, Lot 6, assessed value $5000.
1953 Ward Robbins, Lot 6 except the south 80', and all of Lot 3, assessed value $4200.
1954 J. Ward Robbins.