41 North Holcomb St.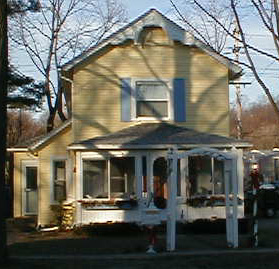 This was long the house of Butler Holcomb, son of William Holcomb and grandson of the original Butler Holcomb.
This house was the residence of Butler Holcomb a cabinetmaker and boat builder who had a shop in one corner of the Clarkston mill building circa 1900. Architecturally the house has seen substantial changes over the years. Artificial siding covers exterior. The back half of the house is an addition to the original section. More research pending.
Official Property Description:
Lot 4 of the Supervisor's Replat (1930 ).
Significant Property History:
Note: All the properties currently located in the Historic District were originally part of a tract registered by Butler Holcomb with the federal government on October 22, 1831. Thus, abstracts for these properties, when they exist, show the original transfer to be from the United States to Butler Holcomb and may also include references to then President Andrew Jackson.
1896 Map of the Village shows no building footprint, owner, B. Holcomb. Tax record information: " a piece 5 rods front on theStreet, west 9 rods, north 3 rods, east 9 rods, bounded north and west by William Holcomb, south by Mrs. N. Walter, assessed value $300.
1926 B. Holcomb, assessed value $1200.
1928 B. Holcomb, assessed value $1200.
1953 Glenn Bonner, Lot 4 except the north 20'.
1956 Glenn Bonner, Lot 4 except the north 20'.